home     books     excerpts     bio     contact     order     blog
SHIRLEY'S WEBLOG
Shirley will be happy to respond to your questions. Click here to ask.
Saturday, February 05, 2011
<![if !vml]>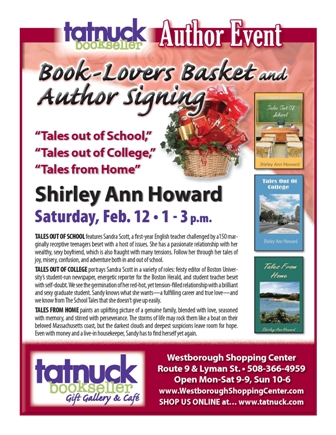 <![endif]>I am in the middle of so many different projects, I hardly know what I'm doing. Of course, if I blogged more often I could add a little information every day and not have to think so hard about what to tell you. But this is a priority.
I will be at TATNUCK BOOKSELLERS in Westborough, Massachusetts
Saturday, February 12, 2011  from 1-3 p.m.
Route 9 and Lyman Street.
Directions at their website: www.tatnuck.com
Three other New England authors will be there also.
AND….. We're offering free basket and wrapping.
Tatnuck has other great gifts too: CDs, special ground coffees, mugs.
And we'll put them all in a lovely basket for you… ready to give to someone special for Valentine's Day.


<![if !supportLineBreakNewLine]>
<![endif]>
Friday, November 19, 2010
OK, I actually have some news. Big news. All my novels are now available in Kindle format on Amazon. Check them out here. This is very exciting as quite a few people I know are really getting into these e-readers. The price of the books is far less than paperbacks, and the print can be adjusted to suit your vision. They weigh only five ounces and can be used outdoors. I may just ask Santa for one of those babies. As always, let me know what you think.
~S~
Sunday, October 3, 2010
I know I'm supposed to blog every day or nearly every day… but honestly, I just don't have time. Anyway, my big news is my new release TALES FROM HOME. It's a Bachenweiler family saga spanning eighteen years. Yikes! You can see more about it at my publisher's website by clicking here.
I've been doing more editing and really enjoying it. We're also planning a trip to Vermont for our annual fall foliage trip… just can't get enough of good old New England living. There's plenty of New England in living color in TALES FROM HOME. You can get a sneak peek excerpt and Chapter 1 by clicking here.
Enjoy… and as always, keep those comments coming. Your feedback helps me improve my work.
~S~
Friday, July 09, 2010
If this works it will be a miracle. My computer was running sluggish again…. I considered buying a new one…. But I like my old one. So I looked through my programs and tried to figure out which ones I could dump. Turns out I had eight different versions of Java, all requiring over 100 MBs of space. Went to the Java FAQs…. And lo and behold someone asked if all those versions were necessary. Answer: No, they can be safely removed. Plus the Java website was able to read my computer and tell me I had the latest version—Java 6 Update 20. That's a little scary. I need Java to upload this blog to GoDaddy, so I'm about to try it now. Wish me luck. If you can read it, it means I'm OK. If not, it's back to the drawing boards.
~S~
Friday, May 14, 2010
I know, I know. Don't say it. I'm supposed to blog more often. But honestly, did you really want to hear about my kidney CAT scan? Didn't think so. But here's news… I'm the featured author on Gather.com tonight at 9 p.m. ET.
http://www.gather.com/viewArticle.action?articleId=281474978235429
Come ask questions, criticize, compliment, and……. One lucky chatter will win a free book.
Oh, and one more thing. Go Celtics! Rondo rocks!
~S~
Sunday, February 07, 2010
Well, here it is Super Bowl Sunday… two years after the unmentionable debacle. Go Saints! Blitz Peyton! I hope he gets numerous views of the Miami night sky.
Anyway, although Boston sports is one of my favorite topics, there's not much to talk about at the present time, so I'll have to go with my most very favorite topic… writing. Tales From Home is finished… that means edited, front and back covers completed, galleys set to go. I hope you like it. I worked hard on those beastly characters, trying to make them as human and multi-faceted as possible. "P" from Central Massachusetts offered feedback that Sandy was a brat. Indeed, she embodies this trait, but c'mon people, she's more than that. She's caring, conscientious, loving, determined, smart… all those good qualities wrapped up in an attractive, passionate body. I'd stand in line to receive that package deal. How about you? Feedback helps me improve, so I welcome your comments at Shirley@ShirleyAnnHoward.com. Plus your emails give me more to blog about.
I'm still offering free, complete PDF manuscripts of Tales Out Of School and Tales Out Of College to anyone willing to post a review on Amazon or Barnes & Noble. Send your request to PublicRelations@ShirleyAnnHoward.com. Tales From Home is due for release in September, 2010, but I might be persuaded to share the front and back covers as well as Chapter 1, if you ask me nice.
Got to go cook my Super Bowl food now… baked stuffed haddock, Greek salad, and ratatouille. Oh, and I almost forgot… a nice California Chardonnay. Got to keep it healthy folks. So far I've lost four pounds since January 1, and I went to the trouble of walking two miles today in the 20° wind, so I'm not about to blow my piddly progress on artichoke dip and Kettle Chips.
I wish you Peace & Love and a blessed 2010.
~S~
Saturday, September 12, 2009
A writer friend of mine told me not to blog if I didn't plan to do it every day. Oh well. I've spent a busy summer editing and writing… working on my third novel Tales From Home. Plus we took a trip out West… first to attend our nephew's wedding in Seattle… then to travel around. We had the time of our lives. Here are a few of the 342 photos I saved.
http://www.facebook.com/album.php?aid=2036145&id=1227351666&l=c563c23d1d
What a blast !
~S~
Sunday, July 05, 2009
What are you doing Saturday, July 11, 2009 at 2 p.m? Will you be near Milford, New Hampshire? If so, drop by Toadstool Book Shop at 586 Nashua St., Lorden Plaza, Milford, NH  03055 to chat with four fabulous romance writers, including moi.
There'll be books too. Hope to see some friendly faces.
My Blog Talk Radio spot went very well. The link below automatically loads up on your default media player. I'm the fourth author to speak.
http://www.blogtalkradio.com/RRW-Specials/2009/07/01/Red-River-Writers-Live
By the way, both my books are rich in New Hampshire local color and action.
~S~
Monday, June 29, 2009
What are you doing on Wednesday, July 1, 2009 at 3 p.m Eastern (2 Central)?
How about tuning into...
http://www.blogtalkradio.com/RRW-Specials/2009/07/01/Red-River-Writers-Live
I'll be discussing my two books.
TALES OUT OF SCHOOL.... a first-year teacher's experience in the classroom with a wide assortment of teenagers. And in the bedroom with her wealthy, sexy boyfriend. Plenty of hot-button women's and educational issues to discuss. Ideal for book clubs.
TALES OUT OF COLLEGE.... a young woman's search for self and love in Boston. Rich in local New England color.
~S~
Thursday, June 04, 2009
I've decided to offer a free e-copy of either Tales Out Of College or Tales Out of School for anyone willing to post a review on Amazon. Simply email your request to me: Shirley@ShirleyAnnHoward.com
I had a wonderful time last night getting together with a large group of friends and colleagues. It's always such a pleasure to get caught up and find out how everyone is doing. I love you all and miss you all. Have a great summer.
~S~
Monday, June 01, 2009
At last… Tales Out Of College is finally available through major outlets. You can read a sample here. I hope you enjoy reading it as much as I enjoyed writing it. I think it's better than Tales Out Of School because I've learned so much along the way. And of course, I must give a HUUUGE shout out of thanks to Kris Stamp, the avant-garde publisher of StoneGarden; Tracy Fabre, my brilliant editor; and Peter Joseph Swanson, my fabulous cover artist. My love to all, and especially my loyal and supportive readers. Enjoy! And, as always, let me know what you think.
~S~
Saturday, April 25, 2009
Every now and then I get motivated in spurts, so I was fortunate to have the opportunity to speak to Suzanne's writing class at White Mountain Community College. Was I impressed!! The students were totally engaged in my presentation, a testament to the friendly learning environment Suzanne has spent all year creating. I think I added to their excitement, not only about writing, but TALES OUT OF SCHOOL as well.
<![if !vml]>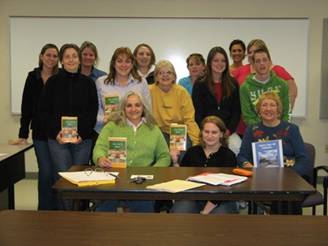 <![endif]>Here they are holding their books.
I was holding a picture of the cover of TALES OUT OF COLLEGE, the prequel to the School Tales. Look for it May 25, 2009. I'll be posting Chapter 1 for you to download, so look for it soon.
I love that little college. It's a gem in the middle of North Country, and a wonderful chance for people who live and work in the area to further their education.
Good Luck to all of you!

I also had the chance to catch up with my beautiful granddaughter who turned one year old and can now walk and look at books. I've decided that I will give her books for every gift-giving occasion as I want to be known as the person who introduced her to the entire world through reading. God Bless You, Katie. I love you with all my heart.
<![if !vml]>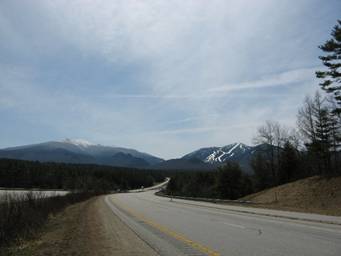 <![endif]>On the way home I snapped some shots of the White Mountains, which I mention in the Tales books. Mount Lafayette is the white peak on the left and Cannon's ski trails to the right. They're real.
Some of you might remember the idyllic autumn walk atop Cannon and Lenny's untimely ski accident the following winter. His family lives just south of here and has a trailside home at Sunrise Mountain. Sandy visits them for the first time in the College Tales. This stuff is made up, but fun.
Although the pics look like winter, it was a spring-like sixty-eight degrees at the base.
Go Sox!!! Kill those damn Yankees.  ~S~

Wednesday, April 1, 2009
I had a great time at the New England Romance Writers Conference last weekend. I had a chance to network with many wonderful writers, and attended some outstanding presentations. Plus I've been enjoying reviewing their ideas by listening to the complete set of CDs. Here's a picture from the workshop: Reaching Promo Zen.
<![if !vml]>

<![endif]>
Although the best part about writing is writing (don't tell anybody, but I really like editing too), promotion is ultra important if you want anyone to know about your work. The above photo was taken by Lynne Marshall, a fantastic writer, who left sunny California for raw, windy Massachusetts. She was nice enough to share with me, since I had forgotten my camera.
We ended the day with a successful book signing co-sponsored by the Framingham Barnes & Noble. They're going to keep a Romance display up for a while, so please visit them at Shoppers World on Route 9. Most of us signed a few remaining copies, so it's the perfect opportunity for you to get an autographed book. Great gift idea for Moms and end-of-the-year thank you gifts for teachers.
~S~
Saturday, March 21, 2009
Did I really let the entire winter go by without blogging? Hard to believe… We had more snow than usual (read: requires removal) and I allowed myself to get more than a little distracted with Facebook and Gather. I also edited Tracy Fabre's latest book REASONS (ISBN: 1-60076-125-9), which is now available at all major outlets. It's a great story and Tracy's writing ranks among the best.
I'm delighted to announce that I'll be signing copies of TALES OUT OF SCHOOL at the New England Chapter of Romance Writers conference this coming Saturday, March 28, 2009 at the Sheraton Tara Hotel in Framingham, Massachusetts. I'd love for you to stop by and say hello. The winner of the Bean Pot Contest for best 2008 novel will be announced, so we're all excited about that.
I'm eagerly awaiting the May release of TALES OUT OF COLLEGE, the prequel to TALES OUT OF SCHOOL… more about that later. And I'm almost ready for the editing phase of the sequel, TALES FROM HOME, a saga which spans nearly twenty years… a tremendously interesting challenge. So you can see I have been busy… pleasantly so.
It's all about the writing. Happy Spring !
~S~
Saturday, December 06, 2008
Well, it's been a busy fall. But the holiday season is upon us and I'd like to offer a gift giving idea. TALES OUT OF SCHOOL makes an excellent gift for the women on your list, especially teachers and student teachers. There's still time for hassle-free Internet ordering and how about adding Shirley's presence, either in person or by phone or email, at your book discussion group.
<![if !vml]>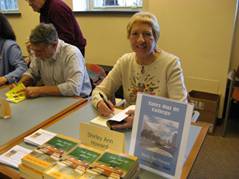 <![endif]>Many thanks to the Duxbury Free Library for hosting a great speaking and signing event. We had a wonderful time talking about writing, publishing, and editing.
I was delighted to once again recommend THE TALES to teenagers. They seem to like Ms. Scott, the main character, and student-centered teacher. She constantly reminds us that students are the reason there are teachers.
Plenty of hot-button educational and women's issues to discuss.

On a sad note I'd like to let you know that my brother, who has been ill for some time, struggled this autumn with kidney transplant rejection. He passed away last month. We'll miss him… a lot. He was a unique individual… I'll have to think about transforming him into a character in my future writing.
My wish for the holiday season is that we make it about peace and love rather than rushing about trying to do the impossible. All the best for 2009… I'm praying for economic recovery and meaningful work for all.
~S~