home     books     excerpts     bio     contact     order     blog
Saturday, December 06, 2008
Well, it's been a busy fall. But the holiday season is upon us and I'd like to offer a gift giving idea. TALES OUT OF SCHOOL makes an excellent gift for the women on your list, especially teachers and student teachers. There's still time for hassle-free Internet ordering and how about adding Shirley's presence, either in person or by phone or email, at your book discussion group.
<![if !vml]>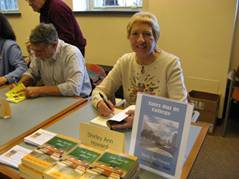 <![endif]>Many thanks to the Duxbury Free Library for hosting a great speaking and signing event. We had a wonderful time talking about writing, publishing, and editing.
I was delighted to once again recommend THE TALES to teenagers. They seem to like Ms. Scott, the main character, and student-centered teacher. She constantly reminds us that students are the reason there are teachers.
Plenty of hot-button educational and women's issues to discuss.

On a sad note I'd like to let you know that my brother, who has been ill for some time, struggled this autumn with kidney transplant rejection. He passed away last month. We'll miss him… a lot. He was a unique individual… I'll have to think about transforming him into a character in my future writing.
My wish for the holiday season is that we make it about peace and love rather than rushing about trying to do the impossible. All the best for 2009… I'm praying for economic recovery and meaningful work for all.
~S~
Tuesday, September 2, 2008
The day after Labor Day always reminds me of returning to school. I wish a productive and exciting year for all—teachers as well as students. The question of Tales Out Of School being appropriate for teenagers has arisen, especially since I've posted a download of Chapter 1 on Teachers Pay Teachers. The simple answer is yes, if they read it on their own. If teachers want to assign it to a class, they'll have to consider how liberal or conservative their school district is. There are a few graphic sex scenes and a bit of swearing. Nothing the kids haven't seen or heard before, just enough for them to say, "Read page 123." I've heard from quite a few teenagers who came across Tales Out Of School at their local libraries. They loved it. They related to the characters and admired the teacher. I think this novel provides many topics for discussion and writing… for teachers, student teachers, parents, and teenagers. It's easy reading and the kids will do it. And you can't say that about every book in the curriculum.
Good luck, and as always, email me with questions or concerns. I'll help however I can.  Preview Chapter 1 PDF
~S~
Sunday, August 31, 2008
August was quite a busy month editing with Tracy. She is one hard task master and has definite views about what she considers good wording and horrrrible. We've gone back and forth with our own opinions of "forbid vs. forbade," and "buses vs. busses." She is also totally against "Their eyes hung on." She's a firm believer in using the past perfect tense, especially with the contraction ('d). Not me. If I felt I could use the simple past in a sentence, that's what I did; I kept it simple. We've also begun the "War of Excessive Commas." If you have strong feelings or questions about any grammatical issues, I welcome them at Shirley@ShirleyAnnHoward.com.
Speaking of readers' views, I have to bring up the topic of the now-famous "present tense shift" in Tales Out Of School. Tracy initially warned me about this, saying she realized it was stylistic, but it didn't resonate well with her. We had several go-rounds about it. For actions that happened frequently or all the time in Tales Out Of School, I switched to present tense. For me, it gave a sense of current action, an "in-the-moment" feel to the scene. (Plus I thoroughly studied Jennifer Weiner's use of this technique in Good in Bed, and it seemed to work for her.) To stay in the past tense made the novel sound like all the action was over and done with, the story complete, the characters now dead. That was not the tone I was aiming for. When I did a public reading and emphasized what I wanted people to hear, the verb tense sounded fine. I know, because I listened to the tape 348 times. At any rate, I've heard from some readers about the present tense verb shift, so you'll be happy to know I did away with it in Tales Out Of College. Nobody seemed to understand why I used it and I got tired of trying to explain it. Since Tales Out Of College is the prequel to Tales Out Of School, it seemed acceptable to allow the action to sound finished. And I discovered a way to make it sound present, even in the past. Example: "As usual, Helen yelped into the phone louder than required."
It's quite amazing how many discussions, disputes, and differences of opinion can arise among people who have a firm grasp of language. Some of it might be attributed to regional variations, and some simply to personal preference. If any of you writing types, English majors, or teachers enjoy such grammar controversy, feel free to email me.
Have a great Labor Day.
~S~
Tuesday, August 5, 2008
It's been a wonderful summer so far, a bit humid, but that's to be expected in these parts. We had a family party for the Fourth of July and then all met again last week for my niece's wedding. It was great to see everybody. I can't remember when I've done that much dancing.
I've also been perfecting my web design skills by learning to create and provide PDF downloads. They've been receiving quite a few hits, which is encouraging. Try it here; it works.     Chapter 1 PDF
I've also been invited to speak at a new and emerging authors' event at the Duxbury Free Library Sunday Salon Series. If there's any topic I like discussing, it's writing, so I'm really looking forward to it November 16, 2008.
The prequel in The Tales Series, Tales Out Of College is currently in the editing phase. I'm extremely excited because I expect Tracy's first comments and mark-ups any day now. I've also started working with Peter on the cover. When the time is right, I just may be tempted to tease you with a peek.
~S~
Sunday, June 15, 2008
I have an announcement… I've become a grandmother. And my granddaughter, Katie Ann, is the sweetest, most adorable child. She's calm, alert, personable, and cooperative. I must admit I was reluctant at first to tell you, as I did not want readers to know I was old enough to be a grandmother. But after my first few visits with Katie, I have decided that I love her more than I care about readers knowing my age. I had the opportunity to care for Katie a bit while the new parents caught up on some much needed rest. She cuddled in my arms and drank her bottle with concentration. Every so often she stopped drinking and looked around, taking in the sights and sounds of her surroundings.
I've been especially impressed with my son and daughter-in-law, who have taken to parenting with confident competence. They seem to be enjoying it tremendously. I'm proud of them; they're taking on the most difficult job in the world and earning a perfect score so far. God Bless.
So with that Happy Father's Day to all those fabulous guys out there who call themselves Dad. You're the best!
~S~
Monday, April 14, 2008
I'm delighted to respond to a couple of concerns from readers. "K from Vermont" feels Sandy is a bitchy brat. It's important to understand that it was my intention to create characters that are multi-dimensional. Sandy has considerable concern about Lenny's level of commitment to her. He stays away for days at a time without calling, his own sister claims he only cares about himself, Sandy's mother constantly warns her, and Ming lurks in the background. Sandy's insecurity about work as well as her personal life gives her the opportunity to grow and change during the course of the novel.
A reader from Arizona was curious about why I told readers to look up the meaning of "roux." By the time I got to the description of that meal, I felt I had written too much about food. Hence, my reluctance to explain it. Upon revising and editing, I was tempted to take out that parenthetical comment, but more than one early reader told me they laughed at that line. So I left it in.
Several readers think there is too much description of food. But quite a few of them said, "By the end, though, we eagerly awaited the menu for that evening."
Some said there was too much sex; some said not enough sex.
I'm thrilled by the interest readers have shown and appreciate the opportunity to respond to concerns. Keep them coming.
If your book group discussions become too heated, feel free to email me, and I'll try to explain my thinking.
~S~
9:00 p.m. Sunday, April 13, 2008
<![if !vml]>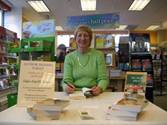 <![endif]>Finally I've had a chance to rest and relax from the Borders signings in Braintree and Kingston, as well as an appearance in Grafton. A million thanks to everyone with whom I've worked. They've been so supportive and accommodating. My signing in Kingston last Friday evening was wild. They featured two Singing Nuns at six, a live jazz band at seven, and me from 6-8 during the customer metamorphosis. As if on cue at seven o'clock, adults started leaving the Mall, and teenagers—with various colors of hair and lengths of coats and skirts—descended. Some were rather interested in books, so I engaged them in conversation about TALES OUT OF SCHOOL. Four of the supporting characters are high school students; I told the kids I thought they'd relate to the reading. One actually took out a credit card and bought a copy. I wrote for her, "Enjoy the tales." And I have the same hope for all who were so kind as to purchase a signed first edition. My gratitude and excitement are at an all time high.
~S~
12:30 p.m. Friday, April 04, 2008
Last night I had the most wonderful signing at Borders in Hanover, Massachusetts. The Borders staff could not have been nicer to me—from start to finish. Cheryl was immediately receptive to my request, she ordered the books in a timely fashion, and set up the nicest display—complete with tablecloth and apples. I was busy for the entire two hours and sold all but six books. They invited me back for April school vacation.
I must say meeting and greeting is exhausting work. It requires upbeat constant conversation and thinking of uniquely individual sentiments for each person's book. I have two more signings set up; then I plan to crash and celebrate.
A huge Thank You to everyone who visited me last night; your well wishes mean a great deal to me. I fell asleep with a full heart, thinking about how richly blessed I am.
~S~
11:00 a.m. Wednesday, April 02, 2008
Here's an update on my signing schedule this week at three local Borders.
Thursday, April 3, 6-8 p.m., Washington Street, Hanover
Friday, April 4, 3-5 p.m., Grossman Drive, Braintree
Friday, April 4, 6-8 p.m. Independence Mall, Kingston
Looking forward to seeing friendly faces.   ~S~
3:30 p.m. Wednesday, March 19, 2008
Come meet me at the Borders in Hanover, Massachusetts (Route 53) on Thursday, April 3, 2008 from 6-8 p.m. They're having a special promotion for teachers and will be offering a 25% discount (with proof of educator status). It will be my first signing and I am psyched.   ~S~
9:00 a.m. Friday, February 29, 2008
Today's a very special day for me, the release date of Tales Out Of School, a three-and-a-half year process of writing, rewriting, editing, finding a publisher… Tales is the story of a young teacher finding her way with students, colleagues, friends, and family. It's fun and serious and sexy. If you find any parts of it controversial, discuss it in your book groups or over coffee. Any book store can order it for you with the ISBN 1-60076-066-X.
Thanks very much for all your good wishes. If you'd like me to lead a discussion or speak at one of your book groups, email PublicRelations@ShirleyAnnHoward.com
Looking forward to seeing everyone as I'm out and about doing my publicity.   ~S~
2:00 p.m. Thursday, February 28, 2008
Tomorrow's the day—the release of Tales Out Of School. I hope crowds lining up at bookstores aren't too unruly. I went to Boston and Cambridge on Monday and took some lovely pictures. I'll post them here, so you can visualize the local color in the Tales novels. I must once again thank everyone at StoneGarden, especially Kris, for giving me this most exciting opportunity and experience. I've had a blast. ~S~   Enjoy the pics.
<![if !vml]>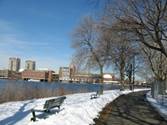 <![endif]>  A walk by the Charles River on the Boston side—Museum of Science is ahead
<![if !vml]>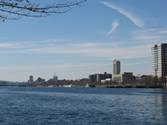 <![endif]>  Cambridge side of Charles River—MIT
<![if !vml]>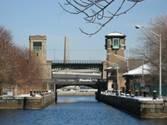 <![endif]>  Drawbridge connecting Charles River to Boston Harbor
<![if !vml]>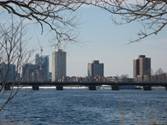 <![endif]>  Mass Ave Bridge—connects Boston and Cambridge
<![if !vml]>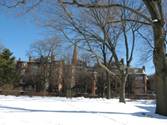 <![endif]>  Old Boston
<![if !vml]>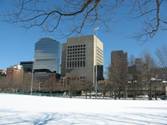 <![endif]>  New Boston
<![if !vml]>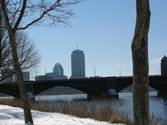 <![endif]>  Prudential Building—Observatory and Top of the Hub Restaurant on Fifty-second floor
<![if !vml]>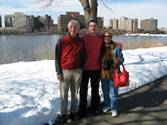 <![endif]>  My husband, son, and me taking a walk
3:00 p.m. Friday, February 22, 2008
It's snowing today. We'd planned on going out for fish, but alas, there's no point in skidding around unnecessarily.
My laptop had been running painfully slow, and when I took it into Staples for a tuneup (with great trepidation as I was loath to leave all my work) the manager recommended I add RAM. "One gig is on sale," he said. I knew he was going to try to sell me something or say I had a virus. I hesitated, and hemmed and hawed. Said the tech guy, "You'll be surprised what a difference it makes in your computer's performance." So I said OK and went for it. He added 1GB of RAM and my beautiful blue laptop is flying now. No more incessant waiting for files to open or download. I'm so glad I did it…
Peace and love.  ~S~
4:00 p.m. Monday, February 18, 2008
Eleven more days… till… the release. I've been very busy working on publicity. For my next book, the prequel to TALES OUT OF SCHOOL, I hope my release date is the first of the month rather than the last. That way it would actually be available as it's being featured for February.
~S~
7:30 p.m. Monday, February 4, 2008
Well, the game is over. And the Patriots are not the greatest team of all time. Alas, what can I say? The Giants defense was spectacular. And when the time came for the Pats defense to step up, Eli scrambled away. For me, the worst part about the loss is that I really did want to see history. Seeing an historic team would have been a wonderful experience.
Peace and love.
~S~
7:00 p.m. Friday, February 1, 2008
I can't believe all this time has gone by without my updating this blog. I meant to write about how wonderful my holidays were, but really they were quiet and serene, just the way I like it. And the Pats are 18-0. This Sunday is the SuperBowl. If the Pats win, they will be the greatest football team of all time. We're all excited, but still a little nervous. Good Luck to Bill, Tom and the rest of the boys. Right now I love Wes Welker. I love the way he dips and dives, cuts and fakes. Plus it seems he does all that stuff and always gets the first down. That's the best part.
I've updated my website to include ordering, as TALES OUT OF SCHOOL is now available from StoneGarden.
I had such a fun time working with the artist to design the cover. I gave him my ideas, he drew them up, I sent back requests for changes, he did, I decided a few things weren't quite right, he modified again… and again… then I wanted to change back to something we had previously. He thought the first cover looked like the Addams Family had started a school, followed by an earthquake. Peter was a joy to work with—cooperative, accommodating, funny…. but most especially, talented and caring. He very willingly worked countless hours to get the image exactly to my liking.
I received another review from Shirley Jump, a New York Times and USA Today bestselling author. It's on my back cover and also the Order link of this website.
So peace and love to everybody. I hope you enjoy Tales Out Of School as well as the many other great titles from StoneGarden. Let me take a minute to give kudos to my publisher, Kris Stamp, the owner of StoneGarden. He created that wonderful, independent publishing house starting with his own work, The Vampire's Curse, and has kept the company afloat for more than ten years. His authors love and adore him and we all support each other. It's a close-knit writing family.
GO PATS  !!!!!       <![if !vml]>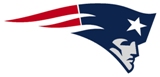 <![endif]>     GO PATS   !!!!!
~S~